People at the Centre of Our Business
We foster a spirit of agility, speed and getting things done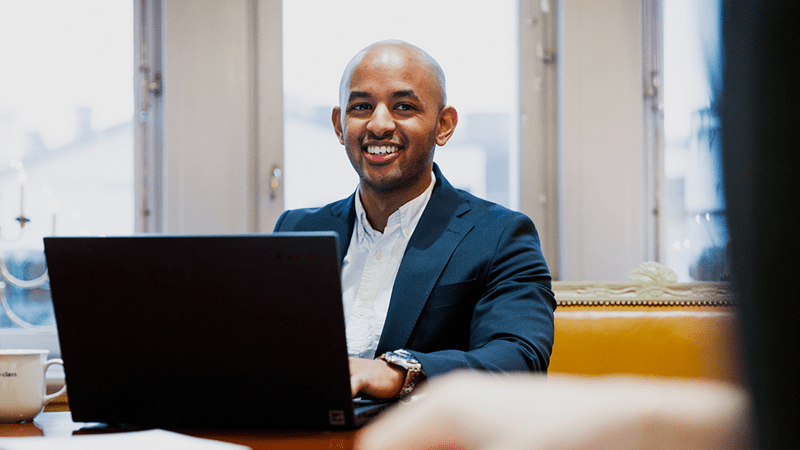 Hello Thomas Kidane, Managing Director at Patricia Industries. Can you describe the culture at Investor?
A combination of ambitiousness, curiosity, humbleness and a family-feeling where all know and care for each other.
How do you spend a normal working day?
The days vary quite much, but typically consist of a mix of meeting with people and doing analyses. For example, I can be at a Board meeting at one of our subsidiaries during the first half of the day where the main topic is the long-term impact on the business caused by the pandemic, which of course is very interesting. The rest of the day I can spend with the analysis of a potential new investment.
What is the best thing about working at Investor?
Number one is the knowledgeable and down-to-earth colleagues, and number two the high pace and variety of working tasks as well as the ability to make impact.
You have been part of our Rotation-program, can you tell us about it?
I have been on rotation at one of our subsidiaries, Permobil, twice – once at their Nashville (Tennessee, US) office and once at their Stockholm office. Both times were really fun as I got to experience new things both from a professional and personal perspective in a very fun and growth-oriented company like Permobil. I also bring the leanings with me in my continued work as an investor. So I believe that rotations are a really great and unique opportunity that Investor offer.
What is the most challenging part of your job?
The constant challenge for me is how to prioritize my time between all the opportunities and things I want to do, to where it is most important and I will have the most impact. It is a "luxurious" problem to have but nonetheless challenging.
Be sure to connect with us to be the first to know when full time positions become available. We look forward to connecting with you and encourage you to apply!